Ares kogelwerende vest NIJ-3A(06)
.
The bulletproof vest ARES NIJ-3A (06) provides optimal comfort, convenience and flexibility. It is an anatomical design, which is suitable for both men and women. We also have the latest body armor NIJ 3A 0101.06 update. Our vests NIJ-3A (06) have been officially certified and offer protection against the caliber .357 SIG and .44 Magnum. The caliber .357 SIG is a bit heavier than the 9x19 mm NATO caliber. This higher level of protection provides enhanced protection against new and powerful 9mm + P + ammo. Of course, it also provides protection against all lower level calibers. The Ares Vest NIJ 3A (06) meets the new international NIJ-3A (06) standards and is considered the best all-round protection against handgun calibers.
This body armor also provides minimal protection against normal attacks with knives until 15 Joule.
The Ares jacket provides protection to the front and rear and sides. Furthermore, this product includes fully adjustable, elasticated shoulders and waist using Velcro. This jacket also has a very high level of breathability, combined with heat and perspiration-regulating system. The advanced system "Siophase" regulates body heat by heat above 37 ° C to drain. This excess heat is stored in the fabric and then released when the body temperature drops below 37 ° C.
How to choose the size for your Bullet proof vest?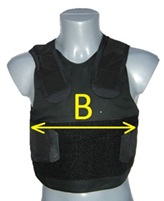 Take a deep breath and measure your chest circumference at the height of your diaphragm and divide this dimension by 2
Calculate an overlap along the sides of minimum 4 cm = 55 + 4 = 59 cm => XL
This is the most suitable size for a person with normal bodybuilding.
One can also take 7 cm overlap than the vest is slightly bigger and slightly longer = 55 + 7 = 62 cm => 2XL
For people who are slightly larger than normal bodybuilding, one can take one size larger. This vest then comes a little longer and lower over the belly.
People who are always standing straight while wearing the vest also generally prefer one size bigger.
Keep in mind, however, that at a too large vest can cause problems when sitting down!
Size chart at the center of the diaphragm

To purchase a bullet proof vests is no license needed.
Yet bulletproof vests fall under the Arms Act in connection of dual-use products. The government claims that the sale must happen in trust to people over 18 years and that an end-user statement is drafted which satisfy a number of requirements.
The end-user declaration signed and send up the original by post to us along with a copy of your identity cart.
Online sale of a bulletproof vest only goes on only when all formalities are fulfilled!
Related products
Reviews
There are no reviews found.
Write review