Odin kogelwerende vest NIJ-3A(04)+NIJ4
€ 1,279.00 € 1,199.00 tax included
Heavy bulletproof vest against FAL and Kalashnikov!
The bulletproof vest model Odin NIJ-3A (04)+NIJ4 is the standard model that gestation period is in many police and security throughout the world. The bulletproof vest Odin provides optimal comfort, convenience and flexibility. It is an anatomical design, which is suitable for both men and women. The Odin uses the same ballistic packages as the Ares vest and different protection values ​​can be obtained. The Odin jacket provides protection to the front and rear and sides. Furthermore, this product includes fully adjustable, elasticated shoulders and waist using Velcro. This jacket also has a very high level of breathability, combined with heat and perspiration-regulating system. The advanced system "Siophase" regulates body heat by heat above 37 ° C to drain. This excess heat is stored in the fabric and then released when the body temperature drops below 37 ° C. The Odin vest can be worn as a discreet vest, but it is also perfect to wear as an over vest, which makes it possible to expand to a higher level.
The Odin jacket has two pockets, front and back, which ballisitsche hard plates can be inserted. It is possible to use different types of hard ballistic plate to be used. The hard ballistic plates Level IV, must be used in combination with a soft package NIJ-3A to the steel core to stop bullets from a Kalashnikov, a FAL or an M16. This combination can also stop heavy hunting bullets.

The hard ballistic plates Level IV, must be used in combination with a soft package NIJ-3A to the steel core to stop bullets from a Kalashnikov, a FAL or an M16. This combination can also be heavy shotgun bullets stop.
-

The the protection value is under U.S. NIJ-3A(04) standards, where the 3A represents a ballistic protection against small arms calibers 9x19 mm and .44 Magnum with normal ammunition. This is a realistic value protection against the most common pistols and revolvers here in Europe are privately owned (bulletproof vest belgium). It is wrong to compare all NIJ 3A vests as simular. There are regular updates performed by the NIJ 3A standards. This ballistic packages meet the NIJ 0101.04 update (-04) and were the American standards in 2001. The American standards NIJ 3A (04) are still today here in Europe quite large utility. After all these vests NIJ-3A (04) stop all normal 9x19 mm cartridges and also the heavy .44 Magnum revolver bullets. This type of jackets is quite large utility because they resist the realistic situation in Belgium where the possession of heavy magnum revolvers is permitted for citizens. Here in Belgium, the heavy magnum revolvers become fequent for up to caliber .44 magnum. Also, our NIJ-3A (04) package includes the powerful 7.62x25 mm cartridges stop from the Russian TT-33 Tokarev pistols regularly in possession of foreign criminal gangs. This body armor also provides minimal protection against normal attacks with knives from 15 Joule. A bulletproof vest according to NIJ-3A (04) is lighter than a standard bullet-proof according to the new NIJ-3A (06) standards. The lower weight is an advantage factor in the choice of this type of protective package.
The NIJ-3A (04) bulletproof package also provides a stab resistant protection against attacks with knives up with a force of 15 joules.
Hard Ballistic Plate NIJ Level IV In Conjunction with NIJ-3A (04) soft body armor or package
Stops steel core bullets or AP ammo!
Double bent. Follows well the shape of the breast.
Standard dimensions: 250x300 mm.
For the moment, there are they only available in BENELUX since the export authorization is required
.

How to choose the size for your Bullet proof vest?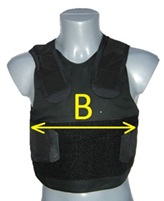 Take a deep breath and measure your chest circumference at the height of your diaphragm and divide this dimension by 2
Calculate an overlap along the sides of minimum 4 cm = 55 + 4 = 59 cm => XL
This is the most suitable size for a person with normal bodybuilding.
One can also take 7 cm overlap than the vest is slightly bigger and slightly longer = 55 + 7 = 62 cm => 2XL
For people who are slightly larger than normal bodybuilding, one can take one size larger. This vest then comes a little longer and lower over the belly.
People who are always standing straight while wearing the vest also generally prefer one size bigger.
Keep in mind, however, that at a too large vest can cause problems when sitting down!
Size chart at the center of the diaphragm

.
To purchase a bullet proof vests is no license needed.
Yet bulletproof vests fall under the Arms Act in connection of dual-use products. The government claims that the sale must happen in trust to people over 18 years and that an end-user statement is drafted which satisfy a number of requirements.
The end-user declaration signed and send up the original by post to us along with a copy of your identity cart.
Online sale of a bulletproof vest only goes on only when all formalities are fulfilled!
Reviews
There are no reviews found.